Best Coffee Shops and Roasters in Dubai
1. Le Guépard
The Le Guépard is a French-style coffee shop located in the heart of Dubai. It was established in 1982 and has become a favorite for many residents and tourists. The Le Guépard offers a wide selection of coffee beans from around the world, as well as tea, pastries and other sweet treats.
Opening Hours: 7 am to 10 pm (Sun-Thu), 7 am to 11 pm (Fri & Sat)
2. The Sum of Us
The Sum of Us is an Australian café that opened its doors in 2003. The Sum Of Us serves breakfast items such as eggs Benedict with parmesan-crusted bacon or avocado & feta omelette with avocado salsa verde.
It lunches include chicken caesar salad or grilled salmon & chips, while dinners include battered fish & chips or lamb shanks with mash potatoes. The Sum Of Us also serves homemade desserts, including tiramisu cake, chocolate fudge cake and chocolate fondants.
Location: Al Fattan Towers, Dubai Marina
Opening Hours: 9 am to 12 pm (Sun-Thu), 9 am to 1 am (Fri & Sat)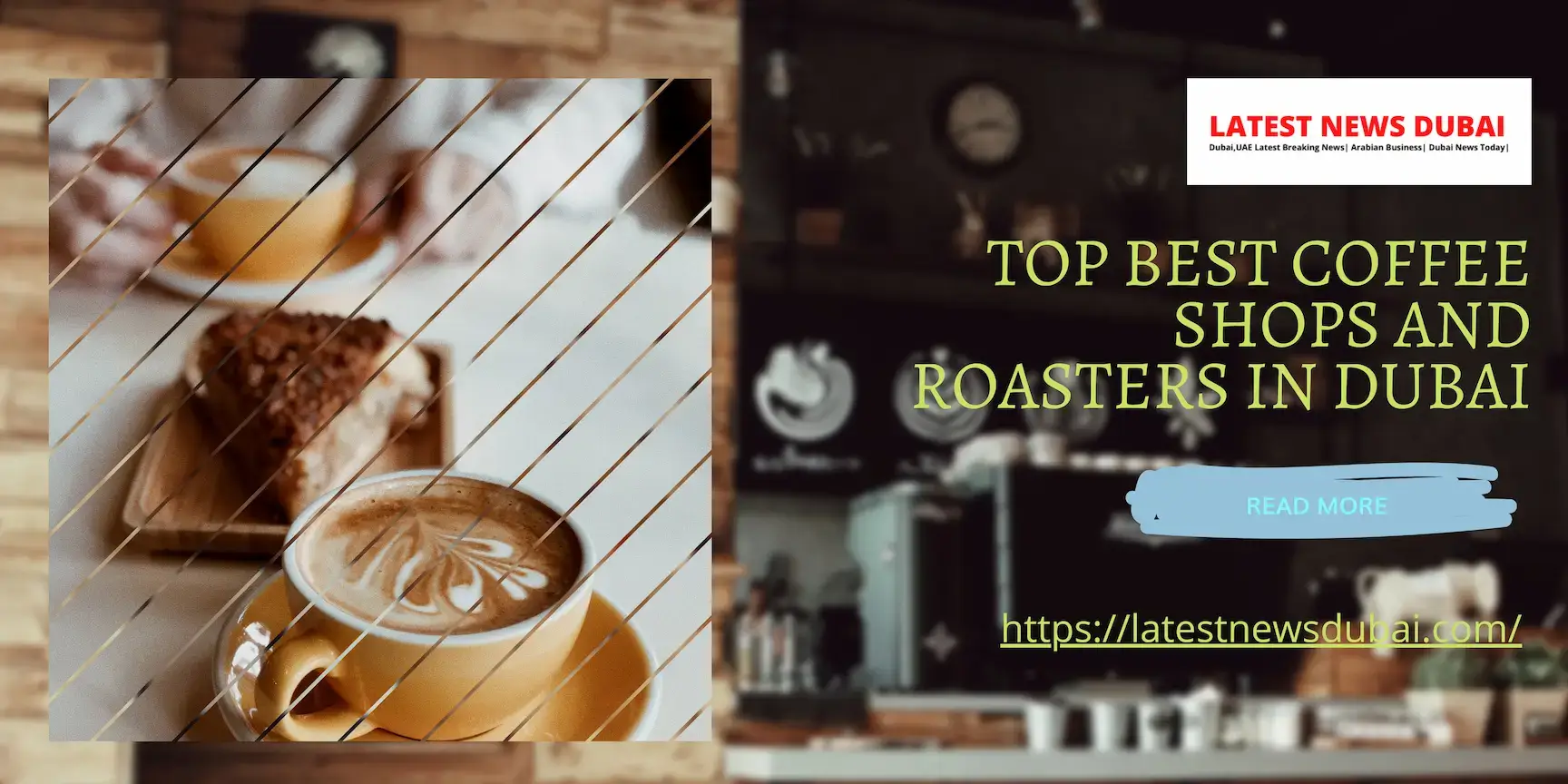 3. The Grey
The Grey was established by two New Zealanders who wanted to open a coffee shop where they could enjoy some great coffee while surrounded by friends and family. The Grey serves hot and cold drinks such as espressos, cappuccinos and lattes; teas such as earl grey tea latte or green tea latte and smoothies.
Location: Al Habtoor City, Dubai Marina
Opening Hours: 8 am to 12 pm (Sun-Thu), 8 am to 2 am (Fri & Sat)
4. Surge Coffee Roasters
Surge Coffee Roasters offers fresh ground coffee beans for sale and a selection of specialty blends that can be enjoyed at home. Their primary location on Al Wasl Road is open daily from 8 am until 7 pm, with additional locations opening later in the evening around Dubai Marina and Jumeirah Beach Residence (JBR).
5. Stomping Grounds – Deira
Opening hours: 7:30 am to 6 pm
Stomping Grounds is a coffee shop with a difference. It has a unique concept that takes you back to the 1920s when people used to gather and share their stories. The place serves excellent coffee, cakes and sandwiches at reasonable prices.
6. Sereni-tea – Deira City Centre Mall
Opening hours: 10 am to 9 pm (Saturday), and 11 am to 8 pm (Sunday)
This tea house offers a wide variety of tea blends from around the world and fresh fruit juices, smoothies, pastries and other snacks like sandwiches and salads. There are also outdoor seating areas available if you want to enjoy your drink in the open air while enjoying the views of Dubai Creek! The service is also pretty good here, and they have free Wi-Fi!
7. Seven Fortunes Coffee Roasters – Al Barsha 1 & 2
This place is one of my favorites! They have fantastic food (salads) and drinks (iced coffees). It's located in Dubai Marina Mall, so there's plenty of parking and restaurants nearby if you're feeling hungry after getting some caffeine in your system. This place has been around for a while now, so menu options that make visiting them more than once
Opening hours: 7 am to 10 pm daily (except Friday when it closes at 8 pm)
8. Nomad Day Bar
Location: Jumeirah Beach Residence (JBR)
Opening Hours: 7 am-11 pm, daily
Nomad is the first specialty coffee shop in Dubai to offer a unique experience with its trademark blend of coffee roasting and barista training. The café is set up like a typical coffee shop, but it also provides an outdoor café with outdoor seating on the beach.
The interior is decorated with vintage furniture, old radios and other vintage items that make it feel more like a home than a café. It gives you the feeling that you are visiting someone's house rather than going out to get some coffee at a café.
The menu consists of various coffees from different countries such as Ethiopia, Colombia and Kenya. In addition to serving coffee, they also offer cakes and pastries made by local bakers and homemade cookies baked daily in their kitchen!
9. Rx Coffee Apothecary
Rx Coffee Apothecary is a coffee shop and roasters that serves coffee from all over the world, as well as juices, beer and wine. It's located in Uptown Mirdif near Al Qouz Park and is open daily from 7 am until 2 am.
10. Late Lounge
Late Lounge is a coffee shop that serves coffee from all over the world, as well as juices, beer and wine. It's located on Sheikh Zayed Road just before Dubai Marina Yacht Club Roundabout and is open from 8 am until 4 am every day except Friday when it closes at 1 am instead of 4 am.
11. Raw Coffee Company
Raw Coffee Company is located on Jumeirah Beach Road, in the heart of JBR, and is open from 8 am until late. This artisanal cafe serves up a variety of coffees from all over the world, as well as a selection of teas, smoothies and juices. They also have a food menu featuring sandwiches, salads and cakes, fresh juices and smoothies made with seasonal produce.
Opening hours: 8 am-8 pm, closed on Wednesday and Friday
12. Oh Sugar
Oh Sugar is located on Sheikh Zayed Road across from The Address Hotel. It offers everything from classic espresso blends to cold brews that are perfect for summer nights. They also serve breakfast items like avocado toast and acai bowls in addition to sandwiches, soups and salads for lunch or dinner (or anytime!).
Opening hours: 9 am-6 pm, closed on Sunday and Monday (closed for a day off every month)
13. NightJar
NightJar offers specialty coffee from around the world at its two locations on Sheikh Zayed Road (opposite City Walk Mall) and Dubai Marina Mall (opposite The Beach). They use beans sourced directly from farmers worldwide who focus on sustainable farming practices.
Opening hours: 7am-11pm (Sun-Wed), 7am-1am (Thu), 8am-1am (Fri); weekends 10 am to 4 pm
14. Forever Rose
Turkish-born businessman Rifat Erginsoy founded Forever Rose in 2010 with one goal: to bring high-quality coffee to customers at affordable prices. The company now has four cafes in Dubai, including one on Sheikh Zayed Road and another on Al Wasl Road near Myocum.
Forever Rose also has a restaurant at Mirdiff City Center Mall, open daily from 9 am to 10 pm. All Forever Rose cafes offer free Wi-Fi access, pastries, and other snacks.
Location: DST, Dubai Satwa, Dubai, United Arab Emirates
15. Mokha 1450
Mokha 1450 is a newly opened coffee shop in Dubai that serves premium espresso-based beverages such as lattes, cappuccinos and mochas. They also serve speciality drinks such as the affogato (a scoop of gelato served over an espresso shot). They also offer breakfast menu items such as eggs benedict and avocado toast.
Opening Hours: 7 am to 12 am (daily)
16. Myocum
Myocum is a coffee shop, roaster and supply business that sells organic coffees from around the world. It also has a small range of teas. The store is located on Al Wasl Road near the American University in Dubai and is open daily from 10 am to 10 pm.
17. Charade
It is a small shop on Al Wasl Road that serves fantastic coffee from its roaster. It also offers some light food options such as sandwiches and salads. The best part about Charade is that it's not only an independent business but also a social enterprise that helps people with disabilities find work opportunities.
18. Gold Box Roastery
Gold Box Roastery is one of the most well-known roasteries in the UAE, and they serve their blends at their flagship location in Al Quoz. Gold Box has several other places around town and a new cafe in DIFC, which offers excellent views of the Financial District.
19. Boston Lane
Boston Lane is another well-known roaster that has been operating since 2009. They offer their blends at several locations around town, including The Galleria Mall, Al Ghurair City, City Walk 2, and Festival City Mall in Abu Dhabi.
20. Alchemy Dubai
Alchemy Coffee Roasters is a unique coffee roaster and café that combines the best elements of Scandinavian design and Italian coffee culture. The café has a modern Scandinavian look, with white walls, concrete floors, wooden tables and chairs, and a minimalistic design scheme.
It also features an open kitchen where you can watch the baristas prepare their signature drinks. The coffee menu at Alchemy Dubai is extensive and includes different blends of espresso, filter coffee, cold brews, and nitro cold brews.
They also serve light bites such as pastries, sandwiches, and salads. Alchemists serve breakfast from 8 am to 11 am daily, lunch from 11 am to 4 pm daily, and dinner from 7 pm onwards every night.
21. The Espresso Lab
The Espresso Lab is one of Dubai's most popular coffee shops. Located in Al Quoz Industrial Area 1 on Street #20, it serves excellent espresso-based drinks such as lattes, cappuccinos, and espressos, along with various other beverages, including juices smoothies, and teas.
The Espresso Lab also has an extensive food menu consisting of soups, sandwiches, and salads, which are served during breakfast hours only – between 7 am-11 am.
22. Emirati Coffee Co
Emirati Coffee Co is a coffee shop and roaster located in JLT. It is one of the best places to get some great coffee. It has a cute little space with comfy sofas and chairs, making it a perfect place to relax with friends or family.
The decor is very Arabian, and the atmosphere is very homely. They serve all sorts of coffee drinks, tea, and other beverages, including juices, smoothies, and shakes. If you are looking for something sweet, they have a small selection of desserts too! They also sell their coffee beans which come in different flavors such as caramel macchiato and cinnamon spice latte!
Location: Alserkal Avenue, Dubai
Opening hours: 8:00AM-10:00PM (daily)
23. Tania's Teahouse
Tania's Teahouse is a charming teahouse in JLT that offers an array of delicious cakes and pastries alongside various tea blends from around the world! The decor is very Arabian-inspired, with beautiful tiles lining the walls, making it feel like you're sitting inside a palace! Plenty of seating options are available, including sofas, armchairs, and tables so you can sit down with friends or family while enjoying these delicious treats!
Location: Marina Walk, JBR Walk, Dubai Marina, Dubai
Opening hours: 10:30AM-12:30AM (daily)
23. Drop
Drop Coffee is a family-owned and operated business that has been working since 2007 in the United Arab Emirates. It was founded by German master coffee roaster Jochen Reiter, who has over 20 years of experience in the industry. The coffee shop operates six locations across Dubai, including one at Mall of the Emirates, where they have the only state-of-the-art coffee roasting machine in Dubai.
Drop offers an extensive range of coffee beans from around the world, such as Ethiopia, Colombia, and Guatemala. Their baristas are highly trained and can create unique signature drinks for customers if desired.
24. Kaffe Bloom
Kaffe Bloom is a small chain of specialty coffee shops based in India but with locations worldwide, including Europe and the Middle East. Its first location opened in Dubai in 2016 at City Centre Mirdiff, serving up its signature brews, delicious pastries, and desserts made from scratch daily by its talented pastry chefs. Their menu includes avocado toast, banana chocolate muffins, and cinnamon apple turnovers, among other delicacies!
Frequently Asked Questions- FAQs
The Bottom Line
Whether you are a connoisseur or a novice in coffee, Dubai offers some of the world's best coffee shops and roasters. Enjoying a good cup of coffee is an integral part of life for many people at different times and places. There are coffeehouses everywhere, and each shop has its style and atmosphere, making you feel right at home.
Also Read: Abu Dhabi Salt Lakes That Are Breaking Insta