Cultural Landmarks in Dubai
Dubai is a creative city which never gets tired of reinventing itself. It is where everything effortlessly looks glittery and uber modern. But, beneath its steely façade and glamorous appeal lies a spectrum of historical attractions and world-class cultural experiences that are hard to miss. If you don't know where to find art, history and culture in Dubai, read on; the following are some of the attractions that introduce you to a very different side of this Arabian metropolis.
List Of Top Cultural Landmarks In Dubai
1. Al Fahidi Historical Neighbourhood | Cultural Landmarks In Dubai
If you wish to delve into the Emirati past and culture, Al Fahidi Historical Neighbourhood (also called Al Bastakiya Quarter) is the first place to visit in Dubai. Nestled in one of the quaintest parts of Old Dubai, it is a charmingly preserved 19th century quarter where you could still feel the old world vibe. Stroll through its narrow lanes and make a stop at the long-standing sandstone structures with traditional wooden towers. Most of them now function as a museum or an art gallery, such as Coffee Museum, Coins Museum and XVA Art Gallery. It is also where you will find the city's oldest fort, Al Fahidi Fort, which now hosts the enlightening Dubai Museum.
Location: Al Fahidi Street, Al Souq Al Kabeer, Bur Dubai
Opening Hours: 07:00 hrs to 20:00 hrs (Sunday to Saturday)
2. Sheikh Mohammed Centre for Cultural Understanding (SMCCU)
This is one attraction at Al Fahidi Historical Neighbourhood that deserves a special mention. Located within a traditional wind tower house, it is one of the ultimate places to visit in Dubai for history buffs and culture lovers. It operates on a unique concept, 'Open Doors, Open Minds,' means this is the best spot to get first-hand knowledge of the region's history, traditions and even religious beliefs. SMCCU organizes a variety of activities and programs. Take Heritage Express tour that allows you see Dubai's timeless sights aboard the Heritage Express Trolley, or sign up for one of its cultural meal sessions – a perfect way to savor the authentic Emirati foods.
Location: Al Musalla Road, Bur Dubai
Opening Hours: 09:00 to 20:00 hrs (Sunday to Saturday)
3. Grand Mosque
Dubai's culture, heritage and traditions are deep-rooted in Islamic values. If you wish to know what happens or how Muslims pray at the mosque, you must definitely visit Bur Dubai Grand Mosque where people from all age groups, religious beliefs and culture are welcome here. It is a free attraction; but, to visit here, you should register your details on the website of Islamic Information Centre. You can expect to spend about 45 minutes on your visit here and every session includes Arabic sweets, tea, coffee etc.
Location: Ali Bin Abi Taleb Street, Al Fahidi
Opening Hours: Open 24 hours on all days
4. Al Seef
Imagine a culture tour interwoven with fun, entertainment, shopping and endless dining options. This is what you can look forward to on your visit to Al Seef. This waterfront destination, along Dubai Creek, is a vibrant heritage district that gracefully fuses old with new. Take a culture walking tour to discover the hidden alleys, featuring the age-old structures, and also check out its latest attractions such as Museum of Illusions with some cool exhibits that challenge your awareness on science and innovation. You can further shop at traditional souks and wind up your visit with a breathtaking dhow cruise dinner Dubai experience.
Location: Dubai Creek
Opening Hours: 08:30 hrs to 23:00 hrs (Sunday to Saturday)
5. Abra Ride at Dubai Creek
If you are not able to afford dhow cruise, a cost-effective alternative is to take an abra ride across Dubai Creek. It lets you sail in a traditional wooden vessel, which starts from the Bur Dubai side of the creek and ends at Deira. But, what appealed to us most is that it will cost only AED 1 for this amazing cruise.
Location: Dubai Creek
Opening Hours: 05:00 hrs to 24:00 hrs (Sunday to Saturday)
6. Al Shindagha Museum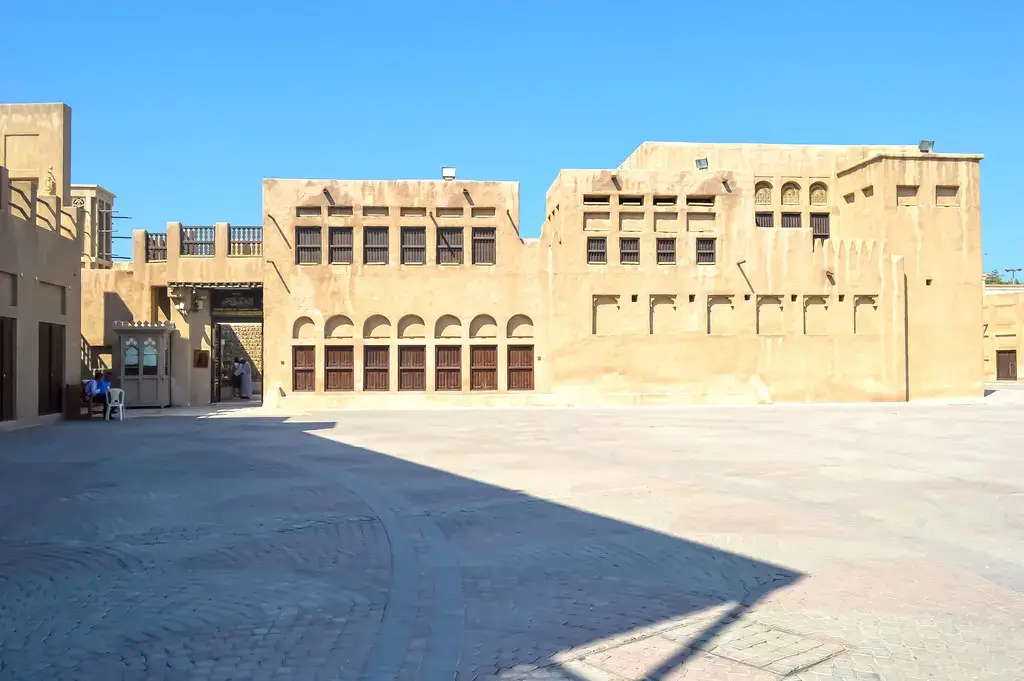 There is no better way to enlighten yourself on Dubai's past, culture and heritage than with a visit to this museum. Located adjacent to Dubai Creek at Dubai Historical District, it has a variety of age-old exhibits that will step back you in time. You also get to watch an exciting multimedia presentation on how the emirate emerged from a sleepy fishing settlement to a renowned global city.
Location: Al Shindagha, Dubai Creek
Opening Hours: 10:00 hrs to 20:00 hrs (Sunday to Saturday)
7. Traditional Souks
What is a Dubai trip without some souvenir shopping? If you are looking to own inimitable and authentic Arabian oud / perfumes, apparels, carpets, and other local merchandise at bargain rates, nothing can beat a visit to Dubai's traditional bazaars, locally called souks. They are as lively and extraordinary as the Textile Souk, Perfume Souk, Spice Souk, and mostly the Gold Souk. But, these souks are not all about shopping; you get to immerse yourself in the real essence of Dubai's traditional life and also relish a wide array of must-try local delicacies such as Falafel, Shawarma and Kunafa as you wander through these packed markets.
Location: Bur Dubai and Dubai Creek
Opening Hours: 10:00 hrs to 20:00 hrs (Sunday to Saturday)
8. Hatta
Curious to know what was life like for ancient Emiratis? Make a beeline to Hatta, about 150 kilometers away from Dubai. It is one of the region's best-kept secrets, located high in the untouched Hajjar Mountains. The major draw is the Hatta Heritage Village which recreates the ambience of a traditional mountain settlement, with forts, mosques, and other structures built using mud, wood and stone. It's a nature lovers' paradise and also a haven for outdoor activities such as hiking, mountain biking and kayaking.
Location: Hatta, Dubai
Opening Hours: Open 24 hours on all days
9. The Arabian Desert
Most people assume desert as a barren land. But, don't skip to visit the Arabian Desert during your Dubai trip. It offers a breadth of experiences; take a desert safari to admire it all. It is mostly a guided trip with adventure, amusement and culture all in equal measure. Enjoy dune bash in a 4X4 vehicle and follow it up with a spectrum of activities like camel ride that let you to see the raw beauty of desert up-close. Add to these traditional activities that give you a glance of the Bedouin lifestyle, such as falconry, falconry and Shisha smoking. Subject to your chosen desert safari package, it also includes BBQ dining and Tanura show.
Location: Al Avir, Dubai
Opening Hours: You can choose from morning, evening or overnight desert safari.
10. Arabian Tea House | Landmarks In Dubai
Given its multicultural setting, Dubai brings to the table culinary specialties from different parts of the world. But, if your taste buds crave for some bonafide Emirati dishes, Arabian Tea House is one of your go-to spots. Its location in Al Bastakiya and the atmospheric setting within a traditional style structure make it a perfect spot for relaxed dining in the heart of the city.
Top Tips for Visit Cultural Landmarks In Dubai
To visit a cultural attraction in Dubai, it is recommended to pre-reserve your spot. This allows you to see your chosen attraction or experience without any hassle.
Make sure that you wear modest dresses that cover your shoulders and knees when you are in public areas as well as on your visit to the above places of interest.
There are some restrictions when it comes to capturing the pictures of certain government structures and heritage attractions. In this case, be sure to check with your service provider and get prior consent (if essential).
To maximize savings, you can consider buying combo tickets packaged with two or more traditional activities and attractions.
Frequently Asked Questions- FAQs of Cultural Landmarks In Dubai 
Conclusion | Cultural Landmarks In Dubai
Dubai is not all about its mighty structures, surreal shopping options or the astonishing ever leisure attractions. It has its share of classic landmarks that are impressive and worth a trip in their own right. Now that you have this extensive list to guide you, don't overlook the historical and cultural sights of Dubai. Depending on the duration of your holiday, make sure that you add a few or all of these attractions in your Dubai checklist.
Read Also: Dubai Frame