Downtown Dubai Restaurants To Enjoy A Date Night Or Special Occasion
Downtown Dubai remains a major tourist attraction in the UAE. Known for Luxury and top-end living. The area is decked with fascinating observation parks and thrilling dancing Dubai fountains. Amidst oceans of its outstanding features and assets, the Dubai downtown situates the famed Burj Khalifa. Its centeredness in the opulence city makes it impossible to be unnoticed, which bags the title "The Center of Now ".
Delightedly, the Burj Khalifa is encompassed by exotic Restaurants and eateries whose poorest performance merits a five-star. Among the best are the outstanding 7 that you won't miss a view of the Burj Khalifa when savoring the town's top-notch cuisines.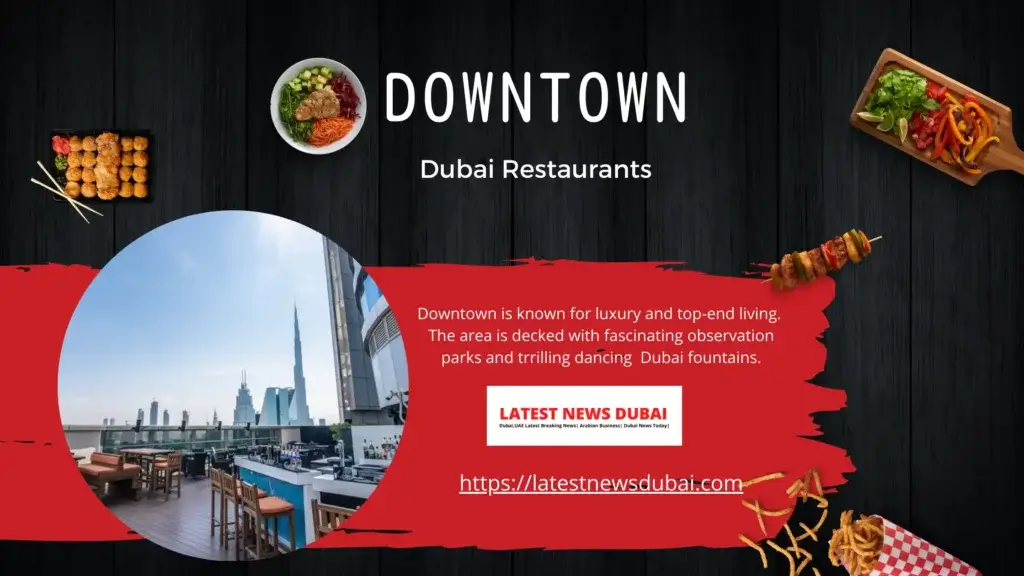 My Top Downtown Dubai Restaurants To Be Check Out
1. Ewaan | Downtown Dubai Restaurants
Are you a hungry Arab, and you feel like eating whetting and mouth licking Arabic and Oriental dishes? Ewaan serves up satisfaction you won't wink about for decades. You'll be satisfactorily tended to from exotic buffets and live cooking stations. Ewaan remains the firm favorite among the Dubai downtown restaurants. With an eye-catchy interior to reminisce on the Arabic wonder.
At Ewaan, you'll never wish for menu updates, it's always stuffed with excellent choices of meats and seafood to satisfy your appetite. No boring moment as you await a waiter because you're lost with the pool's view ahead.
Location: Palace Downtown, Sheikh Mohammed Bin Rashid Boulevard
Children up to 5years- complimentary dining
Children from 6years to 11 years- 50% off dining
Opening-6:30 am to 11:00 pm
The average cost for two-AED 500
2. At.Mosphere
Go on dining in the sky, you can do more than view the Burj khalifa some meters away, get in. On the 122nd floor lies the best and most popular Restaurants in Burj Khalifa. An awardee of the tallest restaurant in the world by Guinness World Record. Feel the bliss of eating at the top of the world.
At.mosphere is famed for its sweets and tantalizing delights accompanied by a top-notch tea menu. Their culinary team makes sure that you're served up fresh menus using the world's finest ingredients. Also, experience exceptional service spirit at At.mosphere, as to render hotel pick up and drop off.
Location: Burj Khalifa, 122nd Floor, Downtown Dubai
The average cost for two: AED 900
Openings: 07:00 am – 10:00 pm
3. Thiptara
Hello friend; S̄wạs̄dī pheụ̄̀xn. Let me show you a 'magic at the water' as thiptara implies. The least experience you'll have in this Thai restaurant located by the Burj lake is magical. Thiptara is the best-known Thai restaurant in Dubai, an excellent choice for ceremonies like birthdays.
Enjoy exquisitely done Bangkok -style seafood ranging from stir-fried lobster to sea bream. Also, savor the fried sea bass with award-winning culinary service. Be mesmerized by the Dubai fountain as you dig in. Undoubtedly, Thiptara remains one of the best Thai restaurants in Dubai
Location: Palace Downtown, Sheikh Mohammed Bin Rashid Boulevard
Average cost per head: AED 350
Openings: 06:00 pm – 11:00 pm
Children below 8yrs- not allowed
4. Armani Amal
Enjoy an exciting and memorable dining experience at the third-floor Armani Amal restaurant. Be blown away by the lovely view of the Amal dining_overlooking the intriguing Dubai Fountain. Armani remains one of Burj Khalifa's finest restaurants. It is a place to give your special celebration a high class. Armani serves luxury from entry to exit.
Armenia Amal offers an exclusively fresh, and innovative menu that features appetite-boosting Indian delicacies. Also, you don't want to miss the exciting beverage list and selected tea alongside "time-honored traditional cooking methods and ingredients".
Location: Armani Hotel Dubai, Burj Khalifa
The average cost for two: AED 570
Openings: 06:00 pm – 11:30 pm | Closed on Sunday
Dress code- smart elegant
5. La serve
If you're asking which are the best French restaurants in Dubai, La Serre tops the chart. La Serre is a spec in all concepts, it spans two floors dishing out all-day dining satisfaction. Furnished with elegant interiors, on a creamy colored finishing staircase that leads to the restaurant facing the boulevard below. Here you dine in the shades
Eat some freshly baked bread and pastries on the lower floor at the boulangerie. Then, when you're set for an extensive menu of mouth-watering French delicacies_use the grandiose stairs and be faced with a satisfying menu. Also, La Serre is vegetarian-friendly with Holal and has gluten-free options.
Location: Vida Downtown Hotel, Sheikh Mohammed Bin Rashid Boulevard Road, The Old Town
The average cost for two: AED 425
Openings: 07:00 am – 02:00 am
6. Asado De Aranda | Downtown Dubai Restaurants
One can say that Downtown Dubai is the foodiest town. Complementary, Asado de Aranda is a Latin American restaurant located in the Palace Downtown Dubai. The worst you experience here in Asado is satisfaction and over delivery. From the captivating bricked walls and high spirit colored palette emerges the traditional cooking method inspired by Parrilla. Enjoy the well-done, mouth-salivating steak at the open grill. Asado De Aranda set a romantic atmosphere with its all fresco seating pattern surrounded by a lovely fountain view.
Location: Palace Downtown
The average cost for two: AED 580
Openings: 06:00 pm – 11:30 pm |Closed on Sunday
7. Asma(Burj khalifa not in view)
Asma Restaurant is a legacy captured and delivered by three Emirati sisters from their grandmother "Asma ". Asma restaurants turned passion into a unique middle eastern cuisine experience. Its cuisine's secret recipes are rooted in the rich flavors of Lebanon, Jordan, Palestine, Egypt, and Syria that leave your taste buds watery for its delight. With a creative contemporary touch on the Middle Eastern traditional meal, making up for dual testament_blending the old and the new methods of cooking
Asma Menu is intriguing, stocked, and extensively rich; whatever you want. Ranging from tasty Asma's Arayees to superb Shakshuka. Also, children are deliciously included in Asma's menu with the Kids' Meal Treat of Chicken tenders & fries.
"Using only the finest and freshest ingredients, Asma excites the unique Dubaian palette that brings back the memories of home-cooked meals to locals and expats alike".
Location: First Floor, The Dubai Mall, Cinema Parking, Level 5Next to Ice Rink
Openings: 10:00 A.M – 1:00 A.M every day
The average cost for two: AED 225
Frequently Asked Questions- FAQs
Summary | Downtown Dubai Restaurants
These are just fragments measured among the numerous best restaurants in Downtown Dubai. You get high value for your money. However, who knows, maybe this summer you'll stop by to taste for yourself. Do well to share the experience.
Read Also: Global Village Dubai